Shalala Salamzadeh Artist and multimedia designer living in the Republic of Azerbaijan with video art "Zurvan" in the group exhibition "Glitch; Pixel Language »has participated in the platform 101.
Zurvan is the god of time in Zoroastrianism and is known for his oneness and loneliness, which embodies infinity. Zurvan is neutral in terms of good and bad, as well as genderless. According to Salamzadeh, in the digital age, concepts such as time, infinity, gender, and morality have been distorted and lost their familiar meaning.
Salamzadeh believes that miniatures in the East, despite some religious beliefs about the prohibition of depicting humans, are still well developed. Using artificial intelligence and coding, he distorted and three-dimensionalized all the "living" elements of the miniatures of the Middle East and the faceless god of Zurvan, in his own words about the compromises of globalization, without being independent, the equality of the Internet age and Orthodoxy (meaning adherence to norms, especially in religion) promotes thinking.
In her works, Salamzadeh deals with human psychology in the digital age, computer technology, and social issues in the cyber age. Her art includes digital art, created through multimedia features such as film, photography, and layout. Her work is a constant experiment and searches for ways to influence technology to present it as a living object.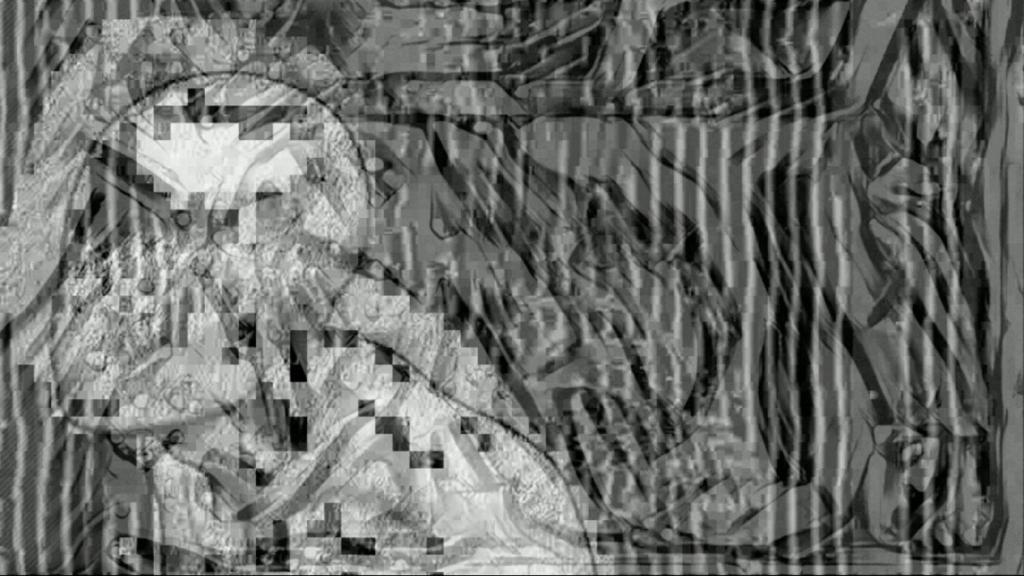 The issue of duality has always been important to Salamzadeh, and in fact, part of her has always remained faithful to traditional culture, but at the same time, her work is completely "digital". Zurvan's true character is associated with the oneness of time, beyond stereotypes and between darkness and light in infinity; A dynamic symbol for Salamzadeh to use as a creator in creating video art.
Salamzadeh's goal is to find a way to reconcile traditional culture, national identity, and the global age of digital technology. For her, glitch art is a way of conveying the "distortion" of the modern age and presenting technology as a living body with unpredictable results.
Salamzadeh initially wanted to reflect on the above issues, and her goal was to create a work of art as close to his expectations as possible. In this process, some elements, such as rotating the pixels and destroying parts of the miniatures, are the result of the decision of Glitch technology that was used to create Zurvan video art.
Glitch's video art show by Shalala Salamzadeh in the group exhibition "Glitch; Pixel Language »curated by Mohammad Ali Famori and Sadegh Majlesi in -1 Bavan Gallery in Tehran for a week until Thursday, January 16, 2021.