According to the website of
One Day One Choir
, this event "is an exciting choral initiative, launched in 2014,  which uses the harmonious and inclusive power of singing together to promote peace and unity on (or around) Peace Day, 21st September." it seemed like an interesting and meaningful event and it grabbed our attention. we had this chance to get in touch with miss Jane Hanson who has initiated the event One Day One Choir. she has been kind enough to answer our questions and explain in her own words the story behind this project: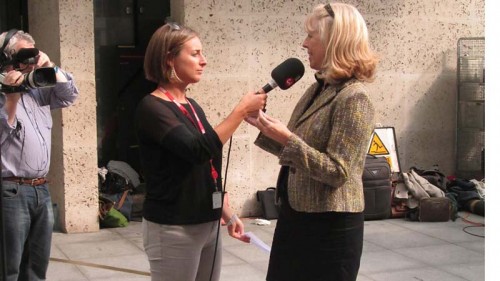 How did this concept initiate and who were involved in it?
The project started when I literally had a vision during the night in 2012 that I had to get the world to sing together in groups or choirs for a peaceful purpose and it kept waking me up every night until I started to do something about it.
In the dream was a very important international conductor so I spoke to him and he said "yes it was a good idea" and that I should try to get the project off the ground and that he would help by putting his name to it. His name is Vladimir Jurowski and he is the artistic director of the London Philharmonic Orchestra and the Moscow State Symphony Orchestra among others.
What did inspire you to begin such a project?
I have sung in choirs all my life as a hobby.  My parents sang together in a choir and introduced me to it when I was very small. When I went to university to study humanities, I missed singing and so I joined the choir there and when I became a young teacher of maths, English and humanities, I missed singing and so I joined a choir there too and one of the teachers suggested, I join the choir she is singing to. So I went along and managed to get into it and it turned out to be the London Symphony chorus, one of the top choirs in the world!
 I really enjoyed singing but I could see it had a special magic that pulled people together and also made you feel great within yourself when you sing. I worked with children as well and I could see them transform when they sang together and could see how it helps them to learn and connect.
What is the purpose for this project and what is the goal to achieve in long-run?
When I was in my mid 30s I got the opportunity to work on BBC World Service radio and to travel the world making programmes about Science and medicine, religion and also more importantly music. I made a number of important programmes about the power of music and the transformations it can have for communities in all kinds of ways.
I made programmes about children in ghettos, children in Soweto in South Africa and children in war zones. I went into hospitals and saw how the power of music transformed people who were ill or who had strokes or accidents and how it helped them to get better both physically and mentally. I went into ashrams and hospitals and temples in India when music was used for its powerful effect in all sorts of community and medicinal healing purposes.
I worked in schools who are using singing to build confidence in their children and improve their learning. I went into prisons and saw how getting prisoners to sing together lifted the spirits and made them work better together as a community group. I went into hospitals in Europe and saw how the doctors and anesthetists in top operating theatres used the power of music there.
My belief is that singing is one thing that can truly bring people of any ages, beliefs, abilities, talents, races, gender and faith together with a common purpose and that by singing together they can improve their own lives.  It has a kind of magical power and has been used by all kinds of communities all over the world for hundreds and thousands of years for social cohesion and uplift in the spirit of the community. Singing in an individual can improve the circulation, breathing and posture. It also fires off endorphin which makes you feel happier and it gives you energy.
How do you think you can achieve your goals?
When you sing together you get even more, because the group harmony raises peoples' immune system levels, this has been proved by science, and it bonds people in a really powerful and positive way. So I knew singing could have a power to bring people together with a common and peaceful purpose, because when people sing together their hearts begin to beat at the same tempo and they and their audiences feel more peaceful as a result.
 So I began to think about the vision and thought I just had to speak to all the people I knew, which was quite a lot in all kinds of different areas and they all thought it was a good idea. I did this on top of my work so whenever I had a spare moment I talked, called and emailed people and tried to engage them with the idea and creating a project which we decided to run through the 2014-18 war years commemoration of World War I. In England you always need something to hang your projects onto and as that was the focus of the government and the arts organisations I went with that period of time because I thought to give enough time to build up a huge choir singing for peace by 2018. And also of course because the dream motivation would be that we never had another world war and that the more people who engage with peace the more likely it is that we can have some impact on this outcome. People here as in so many other countries around the world are sick of conflict and want the world to change and be more peaceful and if the people at the top can't deal with that, then we the people at the bottom need to be doing more action so that we can work from the ground up to say with a very loud  and lovely voice that we want things to be different.
One interesting thing was that I couldn't get any funding because it was about peace and not the war commemoration!!
So I almost gave up very many times but then at the last moment at BBC radio program called The Choir got in touch and said they thought it was a brilliant idea and that they would put on an event for me and in the meantime some peace organisations had offered to help and spread the word and a magazine and two newspapers here said they would also help. So after two years working on the project and not getting funding although I did get lots of people very interested, it looked as though we would have an event on peace day even though I had no money at all.
This time last year I didn't even have a website but I am a healer and one of my patients paid for the website which is at the only money I've had. And then somehow it began to take off with some media articles and the radio program.
The Peace we are talking about in this project is peace at every level, from the inside to the top – peace of all kinds, peace in communities, in homes, in our hearts, as well as peace between nations and groups. So I suppose I didn't really have an idea what would actually happen but having had this vision I just had the faith that I had to go through with it which is how I am still working, and also of course with a lot of effort!
How did people, groups and countries respond to this event?
I've had different responses in different countries for example a lot of interest in Australia and also in Africa last year which is the focus of the peace group I was working with. I've got a lot of interests from 46 other countries who have joined the project that is great and of course eventually would like people in every country to do so. Therefore, please ask all your contacts to reach out to everyone they know and spread the word to get people engaged as it's a really simple thing to do on peace day.
Did you ever think that this event could become this popular?
It was amazing that it did so well in the beginning but when you think how many people there are who feel the same as us then we need to reach thousands and millions more of them. I'm not exactly sure how we are going to do this but I know that the word is spreading already and that because this is something so many people want they will help to spread the word and join in and tell others. So social media is going to be a big part of the project which is something I need to get better at I think because I'm not an expert yet on all the ways to really engage people through Facebook and Instagram and so forth but I am learning!
What has been the best memory during this event?
A best memory I can't really pick one among all the moreis I have. Sometimes I received emails from people saying "thank you for organizing this we need to be able to sing for peace and it's great to be able to know that we are singing with other people who are singing for peace."
Another memory was when some of our leading well known people in England signed up to support us and also when I had a letter from the Prime Minister saying he thought the project was an exciting idea (even though they wouldn't give me any money to help it)!
The best memory I suppose would be the event on the day itself when we stood in the world Plaza of the BBC with five different choirs, from a choir of tiny children, a parents school community choir, a gospel choir, a multi-faith choir and the London Philharmonic choir and they all sang  together, after their own songs, Donna Nobis Pacem which means give us peace / it was broadcast live on the radio and also we were on the national television news.
Another small highlight was a fantastic article written in the Times newspaper about the project and peace in the power of singing together. And another was when a group of 22,000 small children signed up to sing all at the same time across Britain for peace and their group director said children are never too young to learn to sing about peace.
You can sign up to this event by clicking here.
Photos Retrieved from BBC website